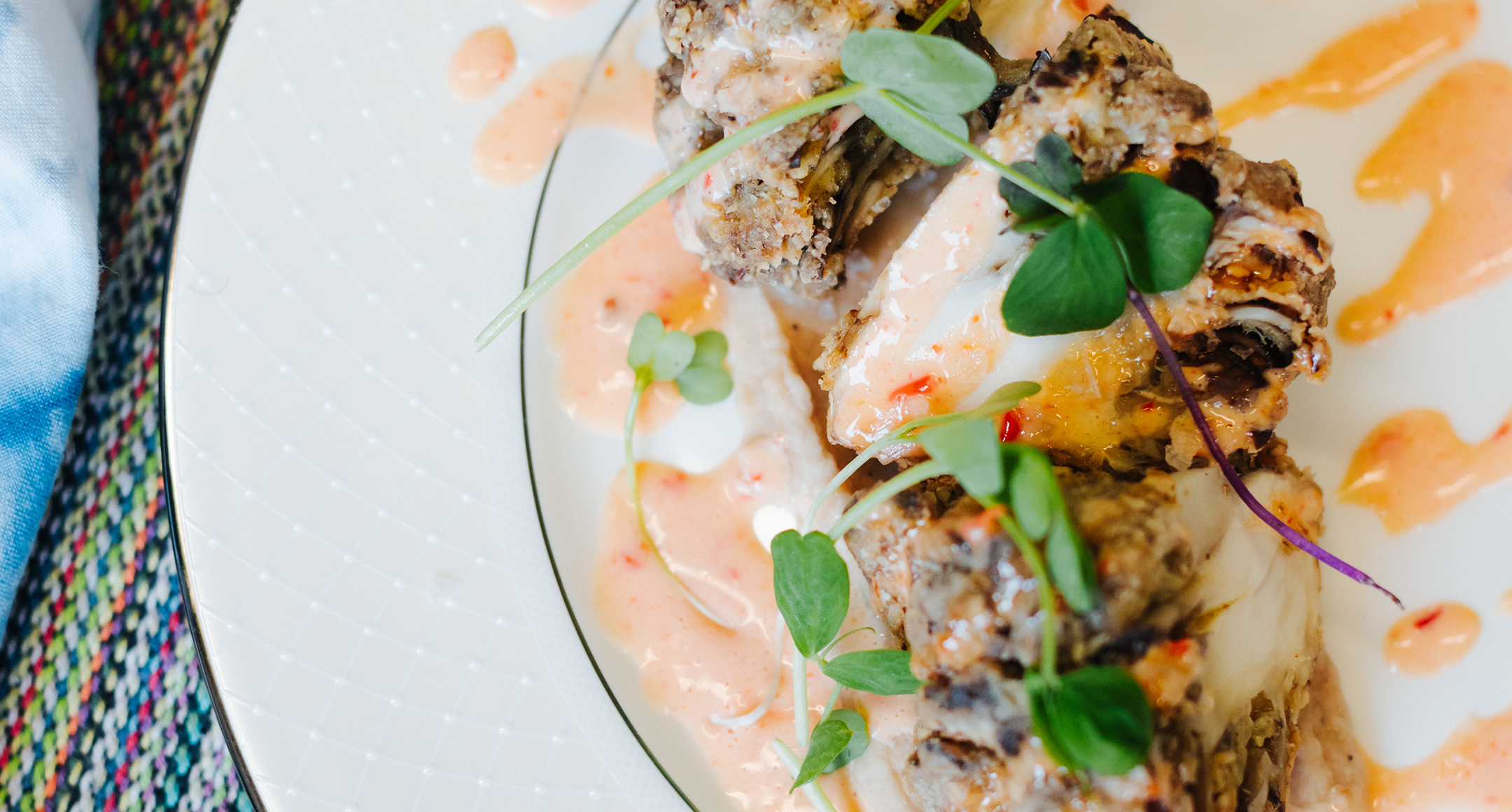 Chef Noah of Jacob of Jacob & Sons shares his amazing recipe for Maitake Mushroom Schnitzel. Served with white bean garlic hummus and harissa aioli, this recipe will impress vegetarians and non-vegetarians alike.
Serving Size

4

Total Time

1 hour 10 minutes
Ingredients
Schnitzel:
1 pound maitake mushrooms, cleaned (you can use other mushrooms too, such as oyster or portobello)
Egg Wash:
4 eggs

1/2 cup seltzer (or cheap beer when not made during Passover)
Dredge:
2 cups matzoh meal

1 cup matzoh flour

1/2 cup corn starch

1/4 cup zaatar

1 tablespoon granulated garlic or garlic powder

1 tablespoon kosher salt

2 quarts canola or grapeseed oil
Harissa Aioli:
1 cup mayonnaise

1/4 cup harissa

1 tablespoon tahini

Juice from 1 lemon

Kosher salt
Garlic white bean hummus:
1 cup peeled garlic

1 cup oil

1 can white beans

Juice from 1 lemon
Directions
The maitake mushrooms should already be broken into manageable, baseball sized pieces, but if they are massive, break them up. Coat them first in the egg & seltzer egg wash, then coat them well in the dredge mixture. Make sure every nook and cranny is covered, then shake off the excess. When they are coated, put them on a parchment lined cookie sheet, and put them into the freezer for at least 1 hour. They don't need to be rock hard, but they should definitely be stiff – the freezing process helps keep the breading on the mushrooms when they fry.

When you are ready to fry, get your oil up to temp. In a heavy cast iron pot or an electric frypan, the oil should be up to 350°F before cooking. This will take 5-10 minutes and you will want to use a thermometer to test the temp before you fry your mushrooms. If you are using a cast iron pot, you'll want at least 3"- 4" of oil in your pot. If you are doing them in an electric fry pan, you will only need an inch of oil, but you will need to be careful when flipping them.

In batches, fry off the mushrooms for 7-8 minutes, or until the coating takes on a toasty brown appearance. When they are cooked, let them sit on a paper towel to let the excess oil come off, and sprinkle them with kosher salt.

While you are waiting on batches of mushrooms to fry, in a small saucepot, heat the garlic and the oil for the hummus. This isn't a traditional hummus, but it is really tasty and garlicky. Cook the garlic in the oil for about 15 minutes on medium low heat. It should be bubbling but not boiling like crazy. Keep an eye on it – we want it soft and toasty brown, not burnt. Once the garlic is soft, turn off the stove and let it sit in the oil until its cool.

While the garlic is cooling and you are still frying your mushrooms, mix the ingredients for the aioli together in a bowl. Season with salt to taste. If you like your food spicy, add some extra harissa to the aioli.

Once the garlic is cool enough to work with (it doesn't need to be cold, just not hot), open and drain the water from a can of white beans and add the beans to the pot with the oil and garlic. Using an immersion blender, blend the beans, garlic and oil all together. Add ¼ cup water and the lemon juice to thin it out and salt to taste. It should be the texture of a smooth, loose hummus.

To plate this dish, put down some white bean garlic hummus on the plate, then take one of the mushrooms, cut it into quarters, place on top of the hummus and drizzle it with the harissa aioli.
Tags