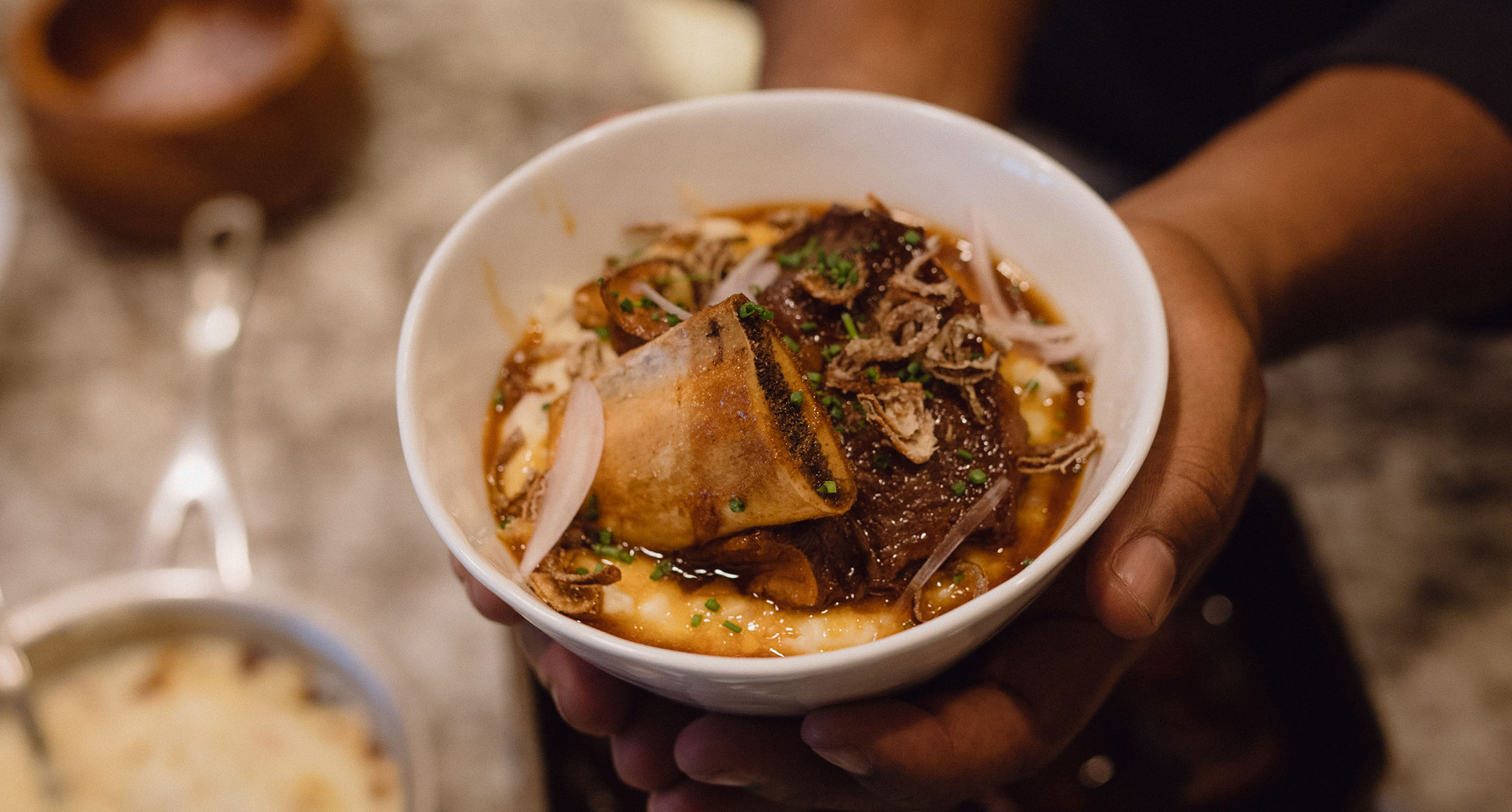 Rashad Frazier, Chef and Co-Founder of adventure company, Camp Yoshi, shares that some of his best memories are the energy and joy he's experienced spending time in the kitchen with family, preparing massive holiday feasts and trading recipes. While he holds those memories close, Rashad also knows the same experience with less prep, dirty dishes and cleaning is a holiday must. This cozy dish for braised short ribs helps him maximize relaxation before the new year, while still paying homage to his family's holiday traditions. As a twist to a family favorite, these Caramel Braised Short Ribs with Creamy Potatoes are a go-to dish that holds all the necessary features for holiday wow. Amazing aromas and a decadent potato mash combine into the ultimate crowd pleaser. Rashad's tip: The dish tastes even better when you allow it to sit overnight!
Serving Size

4

Total Time

4 hours 20 minutes
Ingredients
Short Rib Stew:
2 pounds bone-in short rib

1 cup sugar, divided into two

1/4 cup water

2 tablespoons olive oil

1 cup soy sauce

1 tablespoon Sichuan chili bean paste

2 tablespoons tomato paste

1 tablespoon Chinese five spice

6 star anise

1 orange peel

3 bay leaves

2 cinnamon sticks

1 head of garlic, halved

3 knobs of ginger, rinsed and sliced

1 red onion, halved and peeled

2 cups chicken stock

1 bundle fresh chives, rinsed and chopped

Fried shallots (for garnish)
Creamed Potatoes:
3 large potatoes

3 large shallots minced

3 tablespoons roasted garlic (see recipe) mashed

3 tablespoons roasted garlic oil (see recipe)

Salt and pepper to taste

3/4 cup heavy cream
Roasted Garlic:
6 garlic heads

4 thyme sprigs

1 liter olive oil
Directions
To make the braised short ribs: Preheat the oven to 350°F and heat a Dutch oven on the stove top over medium high heat.

To the Dutch oven, add ½ cup of sugar and ¼ cup of water to create a caramel. Once caramel starts to form, lower the heat to medium low. Coat the short ribs with olive oil and sear each short rib in batches for 3-5 minutes, moving to a plate once done to avoid overcrowding the pot. The goal is to brown while evenly coating each short rib with the caramel sauce.

Next, toss in all the remaining stew ingredients and top off with chicken stock.

With the lid on, bring back to a boil then reduce heat to low allowing to simmer for 2 hours or until beef is tender. Taste and adjust with salt and pepper as needed to taste. The short rib stew will be served over the creamy potatoes. Simple roasted carrots make another great addition.

Roasted garlic:

Preheat the oven to 350°F. Place garlic halves in a small ovenproof skillet and pour oil over until garlic is submerged. Roast in the oven until the garlic is just golden and softened, about 1 hour.

Remove garlic from the oven and allow to cool. Once cool, strain garlic oil into a jar using a strainer. Squeeze garlic heads into a bowl to release caramelized garlic cloves.

To store, place garlic cloves and garlic oil together in a tight sealed jar. Store in the refrigerator for up to two weeks.

Creamed potatoes:

Add potatoes to a large pot and cover with cold water. Add a liberal amount of salt (water should taste briny, like the ocean) and bring to a boil.

Reduce heat and simmer for about 45 minutes until potatoes are very tender. Turn off heat. Drain and return potatoes to the warm pot to dry.

Add shallots, roasted garlic cloves and garlic oil to potatoes, mixing and mashing together with a heavy wooden spoon. You want the potatoes to be slightly creamy with small chunks. Add salt and pepper to taste.

Stir in heavy cream until incorporated. Serve by adding to a bowl, making a shallow well then spooning over short rib sauce. Top off with tender short rib. Garnish with chives and fried shallots.